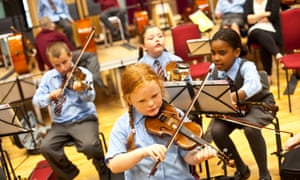 Sam Friedman and Daniel Laurison (Why it pays to be privileged, 2 February) illustrate some of the subtle ways in which talent can be showcased by privilege. For individuals without this supporting structure, the result can be a ceiling on progress and lower financial reward, even after their entry to an elite profession. The ceiling must be dismantled if the UK is ever to become a more equal society. This will require not only decisive action by government, but pro-social action by some of our most esteemed institutions.
Closing highly successful institutions that perpetuate privilege and create such ceilings, such as public schools and Oxbridge, would be destructive and well-nigh impossible. It might be more effective to maintain and celebrate them with a society-endowed broader function. Public schools could forgo pupils below the age of 16. They could convert themselves into sixth-form centres of excellence specialising in advanced level teaching. They could use their buildings and amenities to provide year-long residential courses between GCSE and A-levels, extending young people's skills in similar ways to the Danish voluntary courses between folkeskolen and upper secondary schools.
Similarly, Oxford and Cambridge could restrict themselves to postgraduate teaching and research. They would continue to flourish as world-famous centres of learning but their negative influence on all other British universities and their role in maintaining privilege in our society would be ameliorated.
Professor Peter Mortimore
Richmond, London
• As headmaster of one of the independent boarding schools mentioned in your article (Critics take aim at subsidies given to private schools, 5 February), I welcome the critical focus on how much schools like mine are doing to merit the subsidies we receive. These subsidies are to support children to have continuity in their education, not to fatten our coffers. The article also fails to mention the numerous community engagement projects in which schools like mine are willingly engaged: free of charge.
We are currently supporting a local academy with maths teaching, providing a modern languages teacher for a local primary school and continuing our 110-year-plus partnership with a youth club in Everton. These, and many similar activities, are part of the DNA of charitable independent schools. We are committed to benefiting our local communities and widening access to our schools through growing bursary schemes. We have a long way to go and it is right that we are held to account. Any income we receive goes into improving opportunities in line with our charitable purposes, rather than swelling the bank accounts of shareholders.
Leo Winkley
Headmaster, Shrewsbury School
• Caitlin Phillips and Phil Jones (Letters, 8 February) clearly favour the abolition of private schools. I wonder if, in the interests of fairness and balance, I may be allowed to put another point of view. In this country you may spend your taxed income on anything you wish within the law – luxury homes, cars, exotic holidays – with one exception, it seems: a private education for your children.
In 2014 the Office of the Scottish Charity Regulator (OSCR) published a report stating that, since 2007, it had reviewed all of Scotland's independent schools on its register and none had been removed for failing the charity test. Note that it is the OSCR who set the criteria for charitable status, not the independent schools – which are clearly fulfilling their obligations.
Some 25% of Edinburgh's schoolchildren are privately educated. In private schools stellar teaching, parental encouragement and a studious atmosphere are the norm. All three qualities should be the norm in state schools at no extra cost; what is lacking is the parental will to demand them. Nobody wins a race by eliminating the opposition.
Doug Clark
Currie, Midlothian
• How accurate and relevant the assertions of Phil Jones (Letters, 8 February): the gross inequity of our two school systems and the ongoing damage to the state sector. On 12 February, Midlothian council meets to consider axing instrumental music tuition throughout both its primary and secondary schools. In addition to the inevitable job losses, the availability of a wide (and currently wonderful) array of local school bands will disappear and the viability of whole music departments will be threatened. Such an act (together with other proposed reductions) will no doubt provide a fillip to local private school recruitment. I could cry.
John Steele
Peebles, Scottish Borders
• Jess Gillam is absolutely right (Every child deserves the magic of music, Letters, 11 February). Musical education should be at the core of our educational system. It unites head and heart and brings people together in a uniquely positive form of communication. From my past experience in further education, many young people don't realise how deeply it can affect their lives: but when they do, their lives often take a firm path in a future direction.
Meirion Bowen
London
• I was a lucky one. In 1959 my school introduced free violin tuition. I didn't play much during working years and family years, but now, retired, music has become my life. I play in a ceilidh band in care homes, community events and concerts. I run a string group as part of the U3A. I play for ceilidhs as part of a Strathspey and Reel society. My daughter, a professional violin/viola player, now runs a number of community music groups. My granddaughters play in national children's orchestras. All as a result of my free tuition in school (my parents could never have paid for lessons). Music is fundamental to our society. Children learn far more than technical skill on an instrument. It should be a core subject in our schools.
["source=theguardian"]