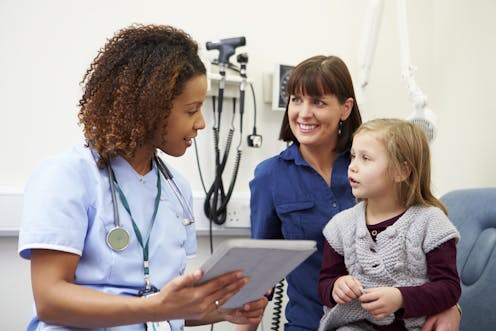 Today, we have come to a time where there is an increased focus on health misinformation along with the potential for social media to truly impact public health. A couple months ago, we started a hashtag campaign on Instagram called, #VerifyHealthcare, sparked by the rise of misinformation and influencers even within health care.
With the influencer phenomenon, there are a lot of other concerns, not just misrepresentation, but other pitfalls whether it's professionalism issues weighing (or not weighing) what is appropriate to post, HIPAA concerns or even sponsored content issues, which is definitely a new phenomenon in health care social media. There's a need for guidance on how to disclose conflicts of interest, industry relationships and how to cite medical literature so that patients and the general public can easily digest it.
#VerifyHealthcare focused on encouraging those with decent followings to disclose their training and experience. Additionally, it encouraged their followers to be mindful of who they are trusting. To double- and triple-check the credentials of those they trusted online.
We saw how this hashtag resonated with a lot of people – health professionals and patients alike – and we felt the need to take this a step further. That's when the idea of creating the Association for Healthcare Social Media (AHSM) arose.
First steps
We are the first professional society for health care social media use. There are other organizations focused on health communications professionals or media professionals, but not for those of us who are practicing medicine, dentistry or nursing and are now using social media to educate others or to build our practices. While Facebook groups or online groups do exist, they're less formal. AHSM holds 501(c)(3) designation as a formal non-profit group and offers more transparency. This was overdue. There needs to be a more organized effort and the designation is the first step to move from informal conversations on an individual level to a concerted force in public health to engage more effectively with other organizations and institutions.
All of us felt that no matter our purpose for using social media, it has a public health impact and to have the positive impact we want to see, we need to come together.
The 15 of us who started this were already heavy social media users, often on Instagram, but also Twitter, YouTube and other platforms. We started with #VerifyHhealthcare and became the founding members for AHSM.
Specialties represented on our board of directors include ophthalmology, OB/GYN, facial plastic surgery, dermatology, pediatrics, orthopedic surgery, neurosurgery, GI, pulmonary medicine, critical care and more. Our advisory council has MD doctors, DO representation, nurse practitioners, a psychologist and also the New Jersey health commissioner. We want to continue to diversify and aim to represent the breadth of medicine.
It's important for everyone to be involved because if you are online talking about health in any way, shape or form, then you should really be aware of how to safely and properly do so.
Changing landscape
It's interesting how the landscape of social media has changed. In the past, it was a casual forum or creative outlet. Increasingly, many have used it in other productive ways, whether it's education, discussion or business. We wanted to highlight all of that, but ensure that there's no danger to health professionals' careers or patient health.
There's been a lot of media attention on various aspects of health and social media, whether it be health misinformation or this influencer phenomenon where even physicians have been accused of hiding paid vacations or rewards for promoting certain products in their social media.
Conflicts of interest and industry relationships are not new to medicine, but the way it's intersecting with social media is new. In this day and age, with the rise of fashion influencers, fitness influencers, etc., health influencers have also arisen. At the end of the day, what impact does this have on the general public and public health? We want to investigate and address this.
Additionally, we observed students, health professionals or medicine-adjacent individuals who said that they were physicians or other health professionals but did not have the training to support that. This was concerning given some of their large social media followings.
["source=healio"]